Notifying country

Germany
---
Product category

Protective equipment

Product

Particle filter mask

Name

Unknown

Brand

ICE PRO MASK

Batch number

1012022
1512022

Type / number of model

ICE Pro Mask

Barcode

8682815049676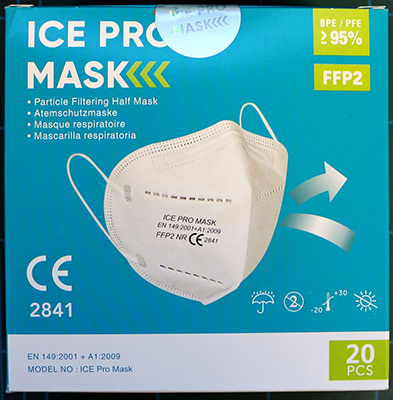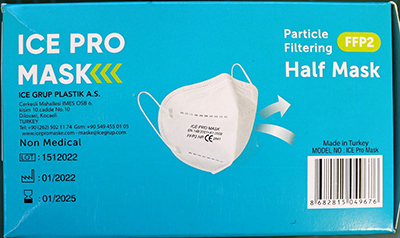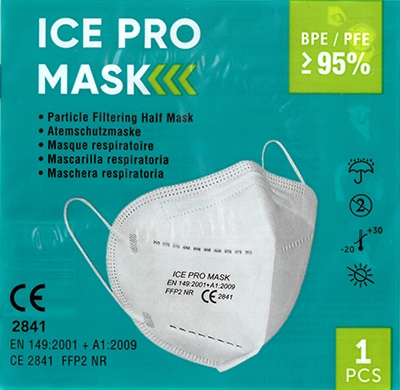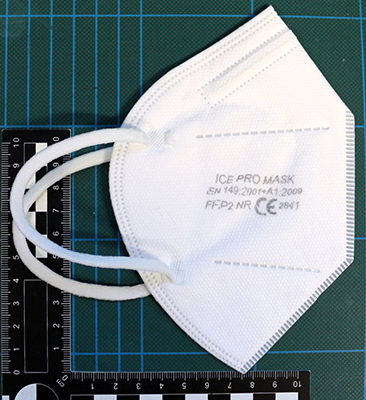 5 Media files
Product description

Protective respiratory filtration half-face mask, without valve, marked with FFP2 and a printed CE mark. Product also sold online.

Packaging description

Turquoise packaging with the instructions and a picture of the mask.

Country of origin

Türkiye

Risk type

Health risk / other

Risk description

The particle/filter retention of the material is insufficient (measured values: as low as 61 %). Consequently, the product does not fulfil the health and safety requirements; thus, even if combined with other recommended measures, it may not properly protect the user.

Legal provisions (at EU level) and European standards against which the product was tested and did not comply

The product does not comply with the Personal Protective Equipment Regulation nor with the European standard EN 149.
Measures taken by economic operators (Retailer)

Withdrawal of the product from the market

Date of entry into force 15/02/2023